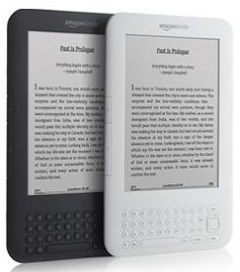 This Kindle 3 review lists all the new features and details about the new Kindle 3, along with what's best about the Kindle and what its weaknesses are.
First off, the only difference between the two Kindle 3 models is one comes with free 3G wireless from AT&T. Both come with WiFi, and the WiFi only model, since it doesn't have a wireless modem, weighs 0.2 ounces less that the 3G model.
Additionally, the Kindle 3G comes in both black (graphite, as Amazon calls it) and white, whereas the Kindle WiFi comes in just black at the moment. Other than that, the two units are identical.
After reading this post, make sure to check the full Kindle 3 Review for a hands-on video review, several pictures and screenshots, and a closer look at the new Kindle's features.
Kindle 3 Review: New Features
In addition to selling the new Kindles for less than similar ebook readers, Amazon added some shiny new features to the Kindle 3 to make it even more appealing . . .
New Pearl Screen Equals 50% Better Contrast – The Kindle 3 and Kindle DX are the first two ebook readers to have the new screens from E Ink. In reviewing both new Kindles, the new screens are a definite upgrade and are highly recommended over the old.
Built-in WiFi – The Kindle 3 can be connected to home and public WiFi networks, and comes with free WiFi access at all AT&T WiFi hotspots in the U.S.
Improved Web Browser with Article Mode – Instead of the basic web browser of old, the Kindle 3 uses a new faster web browser that is based on the industry-leading open source web browser engine, WebKit. One of the features of the WebKit browser is an "article mode" that optimizes pages to be viewed as plain text for reading, focusing on the content in the main article body and removing some ads and extra columns. Surprisingly, the web browser works pretty good as far as ereaders go.
Double the Battery Life – The Kindle 3 can last for up to 1 month on a single charge with the wireless turned off and up to 10 days with it on. Will update this section after a couple of months of use.
New Fonts – The new Kindle now has three different font choices, the standard Caecilia font, a condensed version of Caecilia, and a sans serif option. The new Kindle also supports Japanese, Chinese, Korean, and Cyrillic characters, as well as Latin and Greek scripts. Cyrillic is used in Russian, Bulgarian, Serbian, Ukrainian, and several other languages.
Improved PDF Capabilities – The new Kindle got some much-need improvements for PDF files. Notes, highlights, and the dictionary now work for PDFs, and support for password protected PDFs has been added. PDFs can be viewed in landscape mode, and can be zoomed in up to 300%. A cool feature with the Kindle 3 is that it can darken the text on PDFs.
New Streamlined Appearance and New Buttons – The Kindle 3 is smaller and lighter than the Kindle 2 and has new, quieter page-turn buttons and a new button layout and navigation pad. The new Kindle feels good to hold one-handed.
Voice Guide – This feature has been added to the Kindle 3 to make it easier for vision impaired people to navigate the menus using text-to-speech.
20% Faster Page Turns – Along with the screen improvements, the new Kindle got a boost in page-turning speed.
More Memory – While the Kindle 3 still doesn't have any memory card slots, it now comes with 4 GB of internal memory, twice as much as the Kindle 2. That's enough storage for about 3500 books and documents.
Kindle 3 Review: Standard Features
Aside from the new features added to the Kindle 3, there a lot of main features that remain the same.
Free Global Wireless – The Kindle 3G model replaces the Kindle 2 as the International wireless Kindle, with access to free wireless in over 100 countries around the globe.
eBooks and Content Aplenty – Amazon has over 630,000 total ebooks available in the Kindle ebook store, 135 newspapers, 65 magazines, and nearly 10,000 blogs and news feeds to subscribe to.
Text To Speech – Kindle devices can read aloud ebooks. There's a male and female voice with 3 adjustable speed settings. This feature does not work on all ebooks; it's up to the publishers and authors to allow it or not.
Folders – Amazon recently added folder support to all the Kindles, called collections. The feature could use some work, but gets the job done. It takes a while to set up if you have large collections.
Popular Highlights and Social Networking – You can share passages from ebooks with friends and family using social networks like Facebook and Twitter by posting the passage directly from a Kindle. And popular highlighting shows what other people are highlighting, along with the total number of people who've highlighted it.
Reading Kindle Books on Other Platforms – In recent months Amazon has released several new Kindle apps for reading and syncing ebooks across multiple platforms and devices, including Android devices, Apple's iProducts, Blackberry, PC, and Mac computers.
Kindle 3 Supported Formats – AZW, PDF, TXT, MOBI, PRC, AAX, AA, MP3; HTML, DOC, JPEG, GIF, PNG, BMP through conversion. Kindle Format Conversion Guide.
Kindle 3 Review: Cons
While the Kindle 3 is the most affordable ebook reader with its feature set, there are still some things that keep it from being the King (or Queen) of ebook readers.
No EPUB support – EPUB is the open standard format for ebook readers, one of the most widely used formats, and the Amazon Kindle cannot display any EPUB ebook.
No Support for Library eBooks – Format-wise, Amazon's biggest rival is Adobe, and since most library ebooks are in Adobe EPUB and PDF format, the Kindles naturally don't support that format and can't display free ebooks from libraries. A few libraries have ebooks with Mobipocket DRM but the Kindle does not support that either, despite the fact that it supports the MOBI format.
No Memory Cards – While the new Kindle comes with 4 GB of internal memory, it still does not have any expansion slots. Everything has to be transferred via internet or PC with the USB cable.
Still No Color or Touchscreen – We all expected Amazon to be releasing a color Kindle by the end of the year, or at least one with a touchscreen, but with the Kindle 3 arriving instead, a color Kindle with a touchscreen won't likely be seen for at least another 6-12 months.
Limited Customizable Options – Once you've had your hands on ebook readers like the Pocketbook ereaders where you can change themes and the appearance of ebooks and menus, edit book information, change dictionaries, and specify what each and every button does, it's hard not to want those types of features on a Kindle as well.
Cover Not Included – One way that Amazon manages to get the price so low is that a cover is not included with the purchase of a Kindle 3, and one is really needed to keep the screen protected. Amazon just introduced a really cool new cover for the Kindle 3 that has a built-in reading light that recharges using the Kindle's battery. Unfortunately the cover costs $59, almost 45% the total cost of a Kindle WiFi.
Hands-on Kindle 3 Review:
Make sure to check this full
Kindle 3 review
and video review for more details.