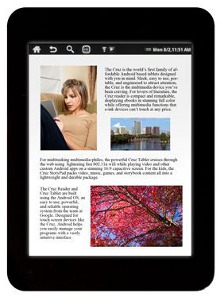 Thanks to a tip at MR, it looks like the Velocity Micro Cruz Reader and Cruz Tablet are now available for pre-order with an expected ship date of September 8th for the Reader and September 27th for the Tablet.
The Cruz Reader is another multimedia device like the Pandigital Novel that can display movies, pictures, browse the web, and play music, but is being marketed as an ereader. It ties in with the new Borders' ebook store and runs Android 2.0, although apps seem to be limited to the Cruz Market and not the Android Market.
For a complete rundown of specs for the Cruz Reader and Tablet, and also the Cruz StoryPad for kids, check out our dedicated Velocity Micro page.
The Reader is currently selling for $199 and the Tablet for $299 from the Cruz Reader website, which says that it will also sell from a number of major retailers like Amazon, Best Buy, Target, etc. But none of those places have the devices listed at the time of this writing.
Update: Borders now has the Cruz Reader and Cruz Tablet up for pre-order. The Cruz Tablet is listed for an October 15th release (on the product details page it says the 30th, so who knows) and the Reader shows a release date of September 30th.
I'll be getting a Cruz Reader and maybe a Cruz Tablet to review, so check back in September for more details.
Cruz Reader Video Demonstration