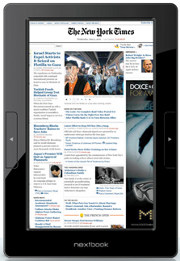 There's a new ebook reader company called Nextbook that has two new ereaders called the Next1 and Next2.
Both the Next1 and Next2 have 7″ color TFT screens with pixel resolutions of 800 x 480. They come with 2GB of internal memory and have micro SD card slots for memory expansion.
Both devices are tied in with the new Borders ebook store for downloading ebooks.
The Next1 is priced at $149 and the Next2 is $199. But neither are for sale just yet.
The Next2 has WiFi, a touchscreen (resistive by the looks of it), and comes preloaded with Android 2.1.
The Nextbook website is still being worked on, so there's not a lot of information available. The Next1 might have WiFi too but I'm not sure because there's obvious incorrect information on the Next1 page.
More updates to come.
Next1 Video Demo
Next2 Video Demo
Via: eBookNewser