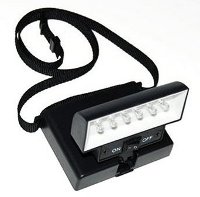 A few weeks ago I was given a pair of Beam N Read LED lights to review as reading lights for ebook readers.
Since I don't care for the way clip-on reading lights change the balance of an ereader, I thought it would be interesting to see how well the Beam N Read lights work.
Instead of clipping on to an ereader or ereader cover, Beam N Read lights have an adjustable strap that is designed to be worn around the neck so that the light sits on your chest. The light housing pivots so that you can change the angle of illumination. This also works well if you set it on a flat surface next to a book or ebook reader.
There are several different kinds of Beam N Read reading lights. I tested the 6 LED Deluxe model (shown in the picture to the upper left) and the smaller version with 3 LED lights.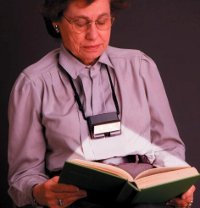 The Deluxe model sells for about $27 on Amazon and comes with two filters, one red and one orange, along with a clip-on magnifier. The smaller 3 LED version sells for about $20 on Amazon and comes with a red filter and a set of batteries.
I found that both units work as advertised. I like the regular light without any filters the best, it's a blue light. The LEDs are bright and provide a wider, more even light than clip-ons. They also come in handy for a number of other uses like needlework, crafts, and camping.
The battery life for these units is surprisingly good. Both run on 4 standard AA alkaline batteries. The 6 light model will work for 48 hours of use on a set of batteries and the 3 light model will last for 120 hours.
The 6 light model is quite a bit brighter, as you would expect, but the 3 light variety works just as well for ebook reading; both are designed to cover 2 hardcover or paperback book pages. Given the 120 hour battery life, the 3 light model is the better value, but I found the 6 light unit does cover the entire screen of a 6-inch ereader with a brighter, more even light.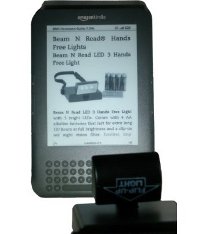 Incidentally, I found the build quality to be quite durable. Shortly after receiving them, I accidentally dropped the unit with 6 lights from about 4 feet onto the concrete floor. It landed with a crash. Batteries went flying everywhere. I cursed that I hadn't even had a chance to try it out yet. But I rounded up the batteries and stuck them back in and it still works.
Overall, I found the Beam N Read lights work well enough to feel comfortable recommending them. Both are pretty lightweight—basically just the weight of the batteries—and sit comfortably on your chest. Once you start reading you forget that it's there. Since they use LEDs, the lights remain cool; the units don't get warm at all.
My only complaint is that the strap could be of softer quality. I found that it itches my neck after awhile, so I started making sure to always put it over the collar of my shirt instead.
Looking at the reviews for the two Beam N Read lights over at Amazon, both are highly rated. The 6 LED Deluxe model has 5 stars over 15 reviews, and the 3 LED light model has 4.5 stars with 7 reviews. All are 4 and 5 star reviews, with the exception of one 3 star review that also complained about the quality of the strap. One reviewer specifically mentions that it works well for the larger-screened Kindle DX, where clip-ons didn't provide enough light.