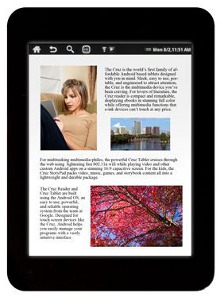 The Cruz Reader from Velocity Micro started shipping earlier this month and the preliminary Cruz Reader reviews are not good.
In all fairness, though, there just aren't very many Cruz Reader reviews to go off of yet. Borders was one of the first to start selling the Cruz Reader, but their customer review section has been "under construction" for several weeks now.
The most reviews can be found over at Newegg. They have been selling the Cruz Reader for about 2 weeks now and currently have 18 reviews. 10 of those reviews are 1 star reviews and just about every one complains that the device is too slow, a couple have had it stop working altogether, and others had trouble getting the screen to calibrate properly or the WiFi to work.
Two reviewers gave the Cruz Reader 5 stars, but didn't go into very much detail as to why. Five reviewers gave it 4 stars, all mentioned that the device was slow, but seemed to have less of a problem with that than the other reviewers. These reviewers liked the Android operating system and spoke favorably about the movie player and ability to install apps.
At this point it's hard to tell if the Cruz Reader is destined to flop or if it just needs some firmware updates to get things working better. I had planned on doing a hands-on review of the Cruz Reader, and even placed an order with Amazon several weeks ago, but for some reason, despite the fact it has been selling from several different retailers over the past month, it is still listed as pre-order on Amazon. What's the deal with that? Now I'm starting to wonder if it's even worth the time . . .