A Review of the Literati eBook Reader From Sharper Image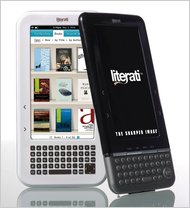 A couple of days ago I received a review unit of the new Literati ebook reader from Sharper Image.
The Literati is a color ereader with a 7-inch screen and has built-in WiFi for connecting to the Kobo ebook store. It will be released later this month and will sell from a number of retail stores.