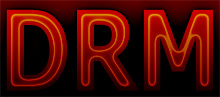 If you are new to ebooks and are considering getting an ebook reader, you may be wondering what DRM encrypted ebooks are, and what that means exactly.
DRM stands for Digital Rights Management, but most believe a more apt definition would be Digital Restrictions Management, because DRM restricts what you can do with your purchased digital media, ebooks especially.
There are varying levels of DRM encryption applied to ebooks. The restrictions may limit how many devices you have a copy of an ebook on (typically 5-6), printing, modifying, lending, or even using a text-to-speech feature to read an ebook aloud. The specific levels of DRM are determined by publishers and distributors.
The biggest problem with ebooks today is the number of confusing formats and variations of DRM. There are currently 8 forms of DRM infecting ebooks, not counting some of the more obscure formats or formats used in non-English countries. Most of these formats are incompatible with each other, so an ebook purchased from one vendor may not work on an ereader purchased from another.
Ebooks are still young. There is no dominate DRM format. Adobe DRM is the most widely used, but with big companies like Amazon and Apple, both with their own forms of DRM, it doesn't look like a single, unified ebook DRM is going to prevail anytime soon.
The Big 4 eBook DRM Schemes
Adobe DRM – This is the most common form of DRM. It is used on ePub and PDF files, including library ebooks. Most dedicated ebook readers support this DRM, with the exception of the Kindle. There are numerous software applications that can read this DRM format and dozens of websites that sell ebooks in this format.
Amazon DRM – Amazon uses their own proprietary DRM for Kindle Books. Most are in AZW format but there are a few TPZ. This DRM restricts the use of these ebooks to a Kindle or a device using Kindle software (PC, Mac, iPad, iPhone, iPod, Android devices, Blackberry).
Apple DRM – Apple uses their own form of DRM on ebooks purchased from the iBookstore. These books can only be viewed on an iPad, iPhone, and iPod—no software or other devices are supported.
Barnes and Noble DRM – This is where it gets confusing. B&N uses Adobe ePub, but use their own form of DRM on top of it that makes ebooks purchased from Barnes and Noble incompatible on other devices and software compatible with Adobe DRM. B&N ebooks will work on the Nook and Nook software (iPad, iPhone, Android, PC, Mac, Blackberry), Pandigital Novel, and the now extinct iRex DR-800, along with a few other devices that specifically mention B&N DRM support.
Other eBook DRM Schemes
eReader DRM – Once a popular format for palm devices, this DRM format, PDB, is limited to a few ebooks stores such as eReader.com and Fictionwise—both are owned by B&N. Barnes and Noble used to use this DRM, and still does in a few instances. This DRM format requires the use of eReader software for a number of smartphones, PC, Mac, and Linux computers, and will also work on a Nook.
Mobipocket DRM – Mobipocket DRM has been around for a long time, but is now starting to fade away. Very few dedicated ebook readers offer support for this DRM scheme, and if they do then they aren't allowed to support Adobe DRM at the same time—so it is one or the other, and since Adobe is far more widely used, support for Mobi DRM is dwindling. It requires the use of Mobipocket software for PC computers and some smartphones. A few libraries have ebooks with this DRM format. This company is owned by Amazon.
Microsoft DRM – A seldom used ebook format is Microsoft's LIT format. Ebooks with DRM that are in LIT format will only work on a computer, tablet, or mobile device with the Microsoft Reader software installed. No dedicated ebook readers support this DRM format.
Blio DRM – This is a new ebook platform that uses Microsoft's XPS format for ebooks. Blio uses its own DRM scheme that is exclusive to Blio software. Their ebooks will not open with any other XPS viewer or program.