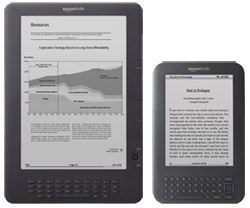 When comparing the new Kindle 3 to the new Graphite Kindle DX, you'd think that the Kindle DX would have a better set of features. But it doesn't.
Amazon released the Graphite Kindle DX at the beginning of July. It was the first ebook reader to have the new higher contrast Pearl screen. But it didn't get much for feature upgrades over the previous version.
When the Kindle 3 was released at the end of August, it too came with the new higher contrast screen and graphite color, and also came with a bunch of new features, leaving the Kindle DX out in the cold. I expected Amazon to release a firmware update for the DX to give it the new features of the Kindle 3, but it's been almost two months and it doesn't look like the Kindle DX will get a firmware update anytime soon. So here's a look at the differences between the Kindle DX and Kindle 3.
Kindle DX vs Kindle 3: Where the Kindle 3 Wins
Webkit Browser is much better than the basic browser still on the Kindle DX
Built-in WiFi
Page turn buttons on both sides
New nav controller better than 5-way nav wheel on the DX
Longer battery life
Weighs 10.2 ounces less
WiFi Kindle 3 costs $240 less
Voice guide reads menus and selections aloud for the vision impaired
New and improved fonts
Support for non-Latin characters: Cyrillic, Japanese, Chinese (Traditional and Simplified), and Korean characters in addition to Latin and Greek scripts for certain file types.
Keyboard is much easier to use (using the keyboard on the DX is awkward the way the device is balanced)

Advanced PDF features

Add notes with the keyboard
Add highlights
Look-up words in the dictionary
Contrast darken feature works great for PDFs with light text
Kindle DX vs Kindle 3: Where the Kindle DX Wins
3.7-inch larger screen size
Larger screen is better for PDF viewing and larger font sizes
G sensor auto-rotates screen
Kindle DX vs Kindle 3: Conclusion
Given the results of this Kindle DX and Kindle 3 comparison, I would recommend getting the Kindle 3 over the Kindle DX 9 times out of 10. The Kindle DX's only advantages are the larger screen and accelerometer. The Kindle 3 has it beat in virtually every other category.
Why Amazon has chosen to give the smaller, less expensive device more features and better PDF functionality than the larger device that was in part designed for PDF use makes no sense.