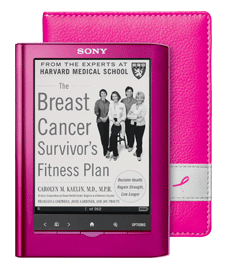 For the remainder of National Breast Cancer Awareness Month, Sony is offering a Pink Ribbon Bundle Pocket Edition for $179.99, the same price as the regular non-bundle Pocket Reader.
The bundle package comes with a Pink PRS-350, a limited edition Pink Ribbon cover, and a coupon code for two ebook downloads from the Sony eBook Store.
The two ebook downloads are The Breast Cancer Survivor's Fitness Plan by Carolyn M. Kaelin and Francesca Coltrera (McGraw-Hill) and Living Well Beyond Breast Cancer by Marisa Weiss and Ellen Weiss (Three Rivers Press).
If you plan on getting a Pink PRS-350, you might as well get the bundle package for the same price. Sony's covers usually cost about $35 and the combined total for those two ebooks is $27.26, so overall that's a pretty good deal.