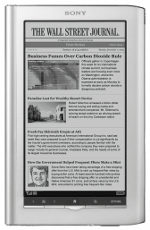 It's official. The Sony PRS-950 Daily Edition is up for pre-order on the Sony Style website.
It costs $299 and the estimated date of availability is November 14th.
The bad news is that it doesn't look like the PRS-950 comes with a cover like the previous model did, so that's going to add even more cost on top of the already lofty price tag.
According to the owner's manual, it does come with an AC charger unlike the other two Sony Readers.
A couple of other things that I noticed in the manual is that the Daily Edition has an icon when you double tap a word to reference Wikipedia using the new web browser. Speaking of the web browser, it uses a variation of the WebKit browser, which the manual says is best for text-based websites, so it doesn't sound like it will be as capable as the Kindle 3's web browser.
Anyway, I've got one on order, so check back in about a month for a full hands-on review.