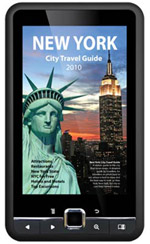 Elonex is a UK electronics company that has had a few different ereaders on the market over the past 2 years, and they just released another one, the Elonex 500EB, a color ereader and multimedia player rolled into one.
Selling from Waterstones for £99, the Elonex 500EB has a 5-inch TFT LCD display with an 800 x 480 pixel resolution.
In addition to displaying ebooks in ePub and PDF (Adobe DRM), TXT, and HTML formats, the Elonex 500EB is a video player (AVI format up 720p), image viewer (JPEG, BMP, GIF, PNG), and music player (WAV and MP3).
The device comes with 4GB of internal memory and has a memory card slot for SD, SDHC, and MMC memory cards up to 16GB (that's what the Elonex website says, anyway; the Waterstones website say it comes with 2GB internal and supports memory cards up to 32GB). Battery life is rated at 20 hours for music, 4 hours for video, and 6 hours for reading. It measures 154 x 88 x 16mm and weighs 190 grams.
Unfortunately there are no reviews posted anywhere for the Elonex 500EB just yet, so there's no word on how well the device delivers. It looks a lot like the Copia Wave 5, but that isn't out yet.