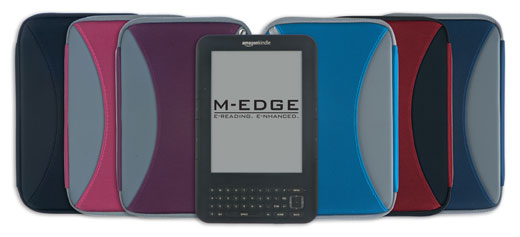 Now that the Kindle 3 has been out for a couple of months, there are a number of new Kindle 3 covers starting to emerge. M-Edge is one of the leading brands for ebook reader accessories since 2006, and they just announced a whole new line of accessories today for the Kindle 3, including 20 jackets, sleeves, stands, and reading lights.
Several of the new M-Edge covers are available now, while some are pre-orders that will be released next month.
There a number of other Kindle 3 covers as well. Amazon sells their own brand, one comes with a built-in reading light that uses the Kindle's battery for power. Belkin has a some low-cost sleeves. Built and Timbuk2 also have some unique sleeves and covers. There are some really nice and really pricey designer covers from Cole Haan and Diane von Furstenberg too.
Click here for a huge list of Kindle 3 covers, cases, and skins »