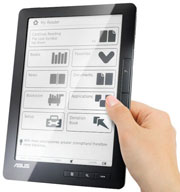 Earlier this year Asus unveiled the DR-900, a 9-inch ebook reader that features a SiPix touchscreen display.
Since then the DR-900 has fallen off into obscurity as Asus has been rather vague on the details and release date. But now a variation of the DR-900 has been released in Taiwan under the name TZ-900.
According to this article over at DigiTimes, the TZ-900 costs about NT$10,000 ($323 USD) and was released through cooperation with a religious organization in Taiwan, Tzu Chi. 5000 units have shipped via pre-order and Asustek expects to sell another 100,000 units to the Tzu Chi group's 1 million members.
The article also mentions the Asus DR-900:
In addition, Asustek will launch a second Eee Reader series, the 9-inch DR-900 with 3G functions, in the Taiwan market on November 29 at about NT$12,000, the company indicated.
There still isn't any word about Asustek extending the DR-900 outside of Taiwan. It's definitely an interesting-looking device with some unique features. The video below shows the TZ-900 in action, but is not in English, unfortunately.
Video Demo