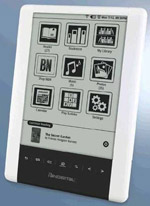 There's a new epaper ebook reader from Pandigital called the Pandigital Novel Personal eReader that is now available from Kohls and eBay.
Kohls does not have it listed online yet, but it is listed in their weekly advertisement for $149 and is available in stores. I was able to sign up for a Kohls account to take an additional 20% off that price, so after taxes I paid less than $130 with the $15 mail in rebate—not too bad for a WiFi-equipped 6-inch touchscreen ereader.
The first thing to know about the new Pandigital Personal eReader is that it uses a SiPix display instead of the more common E Ink displays. In fact, this is the first ereader in the US to use this new type of screen. Overall I'd say SiPix is a step behind E Ink. The background color is grayer and so is the text color (I'll post some comparison pictures in the next couple of days).
The Pandigital Personal eReader feels a little on the heavy side compared to other ereaders with a 6-inch screen. It's made of hard plastic that looks kind of cheap but also is pretty solid. The touchscreen functions aren't as advanced as with Sony's new Readers—there's no on-screen note-taking or highlighting for instance—but works well enough for turning pages and making selections.
The web browser works fairly well, as far as ebook readers go. It's tedious to use but loads fairly quickly. What's nice is that you can use it to download ebooks in EPUB and PDF formats.
As far as the UI goes, it is pretty similar to the color Pandigital Novel. There is an email app, Adobe ebooks app, it ties in with the Barnes and Noble book store, there's a contacts folder, alarm clock, g-sensor, music player, photo viewer, calendar, and more.
That's it for now. I'll post a full hands-on review and video of the new Pandigital eReader later in the week.