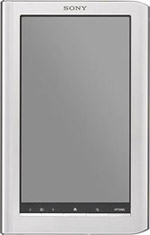 While Best Buy still lists the Sony PRS-950 as backordered on their website, and Sony Style.com still shows the release date as November 14th, some Best Buy stores are now carrying the PRS-950.
To see if the stores in your area have them, hit the link above and select the "check stores" link over at Best Buy to bring up a list of the stores in your area. You might have to call to confirm since they may not have them out on the floor yet.
As for first impressions, the PRS-950 is just like the PRS-650 and 350 as far as features and functions go. It has all the same menus and touchscreen operations. The main difference is the fact that the PRS-950 has a larger 7-inch screen and comes with WiFi and free 3G for downloading ebooks from the Sony Reader store.
There is a web browser that works over WiFi. I found that the browser works well and loads pretty fast. I used Gmail without a problem and even sent an email. It says it is best for text-based sites and all the bookmarked pages are for mobile sites, but I think Sony is selling themselves short because it seems to work okay on many regular sites as well.
The biggest drawback with the browser, however, is that it cannot download any ebooks and only works over WiFi. One thing Sony added to the online store is a section for Google books, so at least you can download some free ebooks from there if not with the browser.
My favorite thing about the PRS-950 is the 2-column landscape mode. This is much better than Sony's regular landscape mode that overlaps sections of the page. Nothing overlaps with 2 column mode and holding the device on its side is very comfortable. Having the page broken down into two sections is a lot easier on the eyes and easier to keep your place.
Unlike the PRS-900, it does not come with a cover or a case. There's an AC charger and USB cable included in the box.
I will post the full review and video in a day or two when I get it finished up.