PRS 950 Daily Edition Review with Video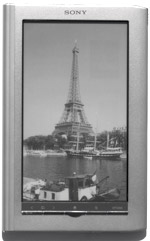 This is a quick note to mention that the review and video review for the new Daily Edition is now finished and can be found on the dedicated Sony PRS-950 Review page.
The review does not cover how the PRS-950 handles PDF files; I will be posting a separate PRS-950 PDF review and video within the next few days. I also plan on doing some comparison posts between the PRS-950 and Sony's other ereaders, as well the Kindle 3 and Nook. So check back soon for those.