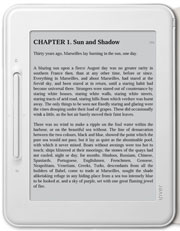 Back in August iRiver released their first touchscreen ebook reader exclusively in Korea called the iRiver Cover Story.
Fast-forward a couple of months and now the iRiver touchscreen ereader is selling from Waterstones in the UK for a competitive £149, about £50 less than the new Sony Touch.
The description page over at Waterstones lacks any substantial information about the device, but the iRiver website has the low-down on the new iRiver Touchscreen eReader. Apparently, the one selling from Waterstones looks to be the non-WiFi model. So here are the details . . .
iRiver Touch Specs
6-inch E Ink Vizplex touchscreen with a pixel resolution of 800 x 600 and 8 shades of gray
2 GB of internal memory, SD card slot for cards up to 32 GB
On-screen note-taking and text memos
Comes with stylus (touch also works with fingers)
G-sensor automatically rotates screen orientation
Built-in Oxford English Dictionary
17 menu languages
Voice recorder
11,000 page-turn battery life
Dimensions: 168.2 x 126.3 x 9.5mm
Weight: 282 grams
Ebook formats: PDF and EPUB (Adobe DRM and non-DRM), TXT, FB2, DJVU
Audio formats: MP3, OGG, WMA
Comic viewer: ZIP (JPG, BMP, PNG, GIF)
Office viewer: PPT, PPTX, XLS, XLSX, DOC, DOCX, HWP
iRiver Cover Story Video Review