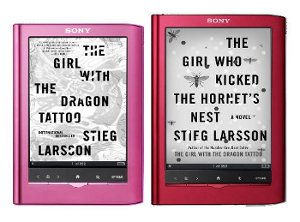 There's a post at MobileRead that points out an interesting promotion Sony US is offering all the way up until January 1st, 2011.
You can trade-in any brand of ereader for a credit on the purchase of any of the three new Sony Readers.
Here's the link to the form that determines the value of your trade-in. I experimented with a few different choices and no matter what I put in, the trade-in value toward a new ereader always came up $75, even by answering no to all the questions—meaning it doesn't even have to work or hold a charge, apparently.
Here are some of the important points to consider from the FAQ about the trade-in promotion:
Q. How does the Sony Style Gift Card process work?

A: Once your Trade-In has been accepted and a value determined, a Sony Style Gift Card will be issued to you for the final assessed value amount to be used at any Sony Style retail outlets, or at www.SonyStyle.com. Please allow 14 days for mailing of your Sony Style Gift Card after you receive your final valuation e-mail for your trade-in item.

Q. Will a quoted trade-in value ever change?

A: As long as we are able to receive the product quoted within 30 days, and as long as the item is verified as meeting the specifications and condition you initially stated at time of quote, your quoted value will remain the same. After the 30 day period has expired, the quoted value may change and it will be necessary to obtain a new quote.

Q. What if the condition of the product is different from what I represented?

A: If the product's condition differs materially from that which you described, Sony Style reserves the right to re-price the transaction quote using the same condition parameters originally available to you. You agree to state product conditions accurately and to the best of your ability based on the guidelines posted on this site. Packing and shipping recommendations should be followed in order to avoid possible damage or loss.You'll be notified of the final evaluated value via email. All trade-ins are final. Your product will not be returned to you.

Q. Does a damaged product qualify for trade-in value?

A: In order to receive the full trade-in value available, your product should be in current working order. However, some products may contain physical or functional defects and still qualify for some trade-in value. Just answer the simple conditional questions presented as part of your product evaluation to determine your products estimated trade-in value. Of course, if there is no value, Sony Style will still provide a prepaid shipping label for you to send in your product for safe Recycling.