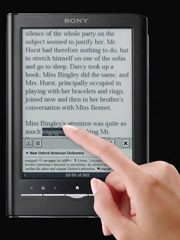 Editor's Note: This post is a guest post from a reader about limitations with the dictionary and word log features of the new Sony Readers.
I've haven't used the Word Log feature much myself, but since the new Sony Readers come with 10 translation dictionaries, I can see how many people would, especially when studying foreign languages. Thanks for the review, Alex!
I bought a Sony 650 reader in September and since then I have come across some inconveniences with using the dictionary that are not mentioned anywhere in PRS650 reviews I've read so far.
The following mostly applies to readers who like to consult the dictionary often while reading and want to review the words afterwards, to people who are learning the language or just want to learn new words they encounter, or those who use the reader as a dictionary.
As I said, the user interface of the dictionary application is hideous, and it bars you from using its full potential, makes you take plenty unnecessary steps, and even takes away part enjoyment while reading.
1. There is a limit of 100 words in the "Word Logs" screen. Each book and each dictionary has its own "Word Logs" screen with a 100-word limit. When I am reading a book, I use dictionary very often and easily look up several hundreds of words. Wishing to review all the words I have looked up after I finish with a book, not only it is quite annoying to be forced to stop reading and write down a hundred of words on a piece of paper and then delete them from the log (otherwise I would not know when I've looked up another hundred and some of the words might get overwritten), it also takes a bit of time.
I do not see any logical reason in introducing this limitation. The amount of available storage should not be a concern, for logs usually take up only small amount of memory. I cannot image what stood behind the decision to limit the logs to only 100 words, but I hope that this is just an oversight that will be rectified.
2. Surprisingly, the "Word Logs" screen does not have a "Delete All" option. You are required to tap each word to select it and then tap the "Done" button to delete selected words. This is unbelievable! Why does the user need to do meaningless work of selecting all the words in the log when all that could and should be easily done by the reader software?
It takes me about two minutes and at least 110 taps to perform "delete all" operation when the log is full. It is very distracting deprives you of seamless reading experience.
3. The way the process of looking up logged word is done renders the whole idea of a log little but useless. Here is a typical scenario: You have finished a book and want to review meanings of some of the words you have logged. To do that you need to open the book you have been reading if it is not already open, press the "Options" button, tap on the "Word Logs: Book" option, navigate pages of the log to find a word you want to review, and tap that word.
This works fine when you need to look up only one word. If you need to review more words than one (which is a reasonable assumption), you need to tap on the "close" button in the right-upper corner of the screen which brings you back to the text of the book. Pressing the "Options" button and choosing "Logs" option will bring you back to the list of words.
There is no other way (at least I was unable to find one) to go back from the word definition screen to the word log screen in one tap. You are required to make two extra steps to get back to the log; given that screen refresh is not instantaneous, this process takes time, and meaningless repetitive actions cause irritation. Additionally, if you are using the reader as a dictionary, the "close" button will return you to the "Application" screen, not the screen with a keyboard, and you will need to tap the dictionary icon to reopen it.
I almost do not use word logs for purpose they were intended to be used because it takes too much time and effort to do it. I usually write words down and look them up later, if I need to, in my desk dictionary. It was a big mistake not to include a "Go back to log" button on the word definition screen. It causes you to spend your time and energy taking steps that yet again should be taken by the software.
These three inconveniences combined make work with the dictionary application unnecessary difficult and cumbersome. I believe that all of that could be quite easily corrected – the 100-word limit lifted, a "Delete All" and a "Go Back" added – with a firmware upgrade. Hopefully, Sony will take time to implement and issue an upgrade fixing these problems.