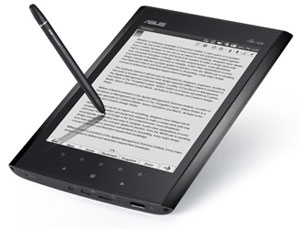 The Asus Eee Note EA800 isn't your run of the mill ebook reader. This clever device is designed for note-taking and sketching as well as ebook reading.
It has an 8-inch anti-glare glass screen with 64 levels of gray and 768 x 1024 resolution. The touchscreen is equipped with an ultra-sensitive Wacom digitizer for capturing handwritten notes and sketches with the precision of 256 levels of pressure sensitivity.
Designed with students and business professionals in mind, the Asus Eee Note comes outfitted with a built-in camera, Wi-Fi, voice recorder, and supports Microsoft Office documents, PDF, EPUP, TXT, MP3, JPEG, BMP, GIF, and PNG formats.
For specs, the Eee Note comes with 4GB of ROM, a microSD card slot for cards up to 16GB, micro USB port, 3.5mm headphone jack, speaker, and aforementioned 2 mega pixel camera and microphone. A couple of other interesting details, the spec sheet lists the touchscreen as having 2540dpi and says that the screen is not backlit.
The dimensions of the Asus Eee Note are 139 x 222.4 x 11 mm, and it weighs 520 grams (about 18.3 ounces). The battery life is rated at 10 hours of continuous use with wireless on, 13.5 hours with wireless off. Standby is 10 days.
There's no word yet on a release date or pricing.