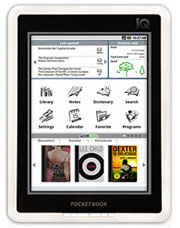 This is a quick update to mention that I posted the PocketBook IQ review earlier today.
The review isn't exactly complete just yet; I'll be updating and adding some screenshots to it over the next week as the new firmware is released and I learn more about the finer details of Android.
Please feel free to post any questions or comments about the PocketBook IQ below; I'll do my best to answer them.