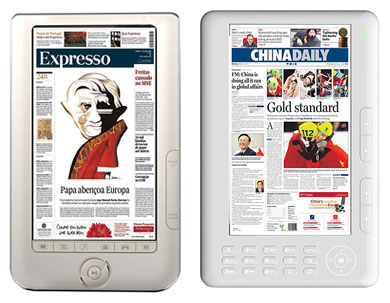 I found these two color ebook readers from Fuji Labs listed on Overstock.com a couple of weeks ago, but there's not much information on either of them.
This first Fuji eReader looks a lot like several other color ereaders hitting the market lately. But this second Fuji B3260 eReader doesn't look like any I've seen before.
Let's start with the specs for the second one, it's still in stock and is selling for $193. The most imteresting thing about it is that it supports 1080p video and has an HDMI port for connecting to a television—now that's a first for an ebook reader.
Other features include handwritten notes, text-to-speech, 2GB of memory, three thousand fonts (that's what it says…?), bookmarks, 48 listening modes and 9 sceen modes (no idea what that means), it has a 7-inch HD touchscreen with a resolution of 800 x 480, and it supports PSP-level 256-bit games.
For formats the Fuji Labs B3260 doesn't list any DRM support, it lists the following formats: PDF, TXT, EPUB, CHM, UMD, PDB, HTM, HTML. For images: JPG, BMP, GIF. Audio: MP3, WMA, WAV, AAC, and FLAC. And video: RM, RMVB, AVI, MOV, WMV, MP4, 3GP, FLV, ASF, MPG, MKV, VOB, DAT.
Moving on to the other Fuji eReader, the B3250, it is a more basic device that is listed at $153. It has a 7-inch screen (no touch) with 2GB of memory and supports these ebook formats: TXT, PDF, EPUB, RTF, TCR, BMK, MOBI, OPF.
For video the Fuji B3250 supports AVI, 3GP, and MP4. Images: JPG, BMP, GIF. Music: MP3 and WMA.
The only other bit of information on this model is that is supports FM radio and voice recording and can "auto browse patterns to read based upon individual reading habits" (whatever that means).
Both devices share the same dimensions at 8″ x 5.5″ x 0.5″. And both only come with a 30 day warranty (most come with 1 year).
If you've tried either of these ereaders from Fuji Labs let us know how well they work.