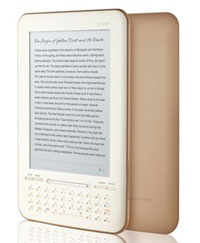 CES 2011 is just around the corner (January 6th-9th) and as usual looks to be the hotspot for companies showing off new ereaders and tablets, among many other electronics and gizmos.
According to reports, iRiver intends to reveal the iRiver Story HD, the first 6″ epaper ereader to use a high definition display with a resolution of 1024 x 768 instead of the more typical 800 x 600.
It's unclear whether the screen technology being used for the new Story HD is E Ink Pearl or something new created by LG, iRiver's partner company.
The first iRiver Story ebook reader used a Vizplex screen from a company called E Ink and so does the second touchscreen model, the iRiver Cover Story. LG makes electrophoretic displays so perhaps this will be their first unit. After all, when iRiver and LG announced their joint-venture ebook business back in June, the press release had this to say:
Iriver is responsible for product design, accumulated knowledge on e-book technology, including designs and platform development, as well as technical assistance within the joint-venture. And Iriver will be the first customer for the joint venture. LG Display, with its global sales network and world class production skills, will be in charge of providing a stable supply of e-book displays, such as electronic paper displays (EPD) to the joint venture.
Aside from the new screen, there are a few other details about the new Story HD. It has WiFi, Freescale's new chip for improved speed, and weighs in at about 230 grams (8.1 ounces).
That's about all the information available right now; we'll have to wait for CES to get more details.
Via: Asiae