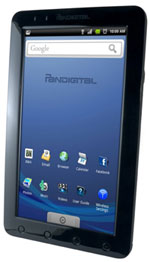 That's right. The 9″ Pandigital Novel that I just reviewed last week isn't the only 9″ model. Pandigital just announced a new version of the same ereader that comes with mobile wireless from AT&T.
The model number is R90A200 and the manufacturer's suggested retail price is $279.99, $80 more than the WiFi-only model. It will sell from several national retailers beginning this month, probably QVC to start since that's one of the few places that sells the other 9″ Pandigital Novel.
If you read the press release carefully, however, several red flags go up. First off, they never use the term 3G to describe the wireless connectivity. Second, and most importantly, whenever they say wireless they use it in context with shopping and downloading ebooks from Barnes and Noble. Lastly, they say it uses AT&T's wireless network without a contract, but doesn't specifically say free, like the Kindle 3 and Nook 3G offer.
If I were to wager a guess, the wireless connectivity through AT&T will only work for buying and downloading ebooks and periodicals from B&N, not browsing the web, sending email, etc.
I hope I'm wrong but doubt it. Read the press release to draw your own conclusion. Here's the main section:
Pandigital today announced the availability of the Pandigital Multimedia Novel 9-inch Android tablet and color eReader, the company's first eReader device offering integrated wireless connectivity through AT&T* for accessing Barnes & Noble's eBookstore.

This Pandigital Multimedia Novel (model number R90A200) has a large 9-inch full-color LCD touch-screen display that is the ideal size for comfortably accessing and enjoying a number of applications. Plus, the larger display size gives customers an enhanced viewing experience when surfing the Internet through the integrated web browser, as well as when watching movies, playing games, or viewing photos, video and more. With this new Pandigital Multimedia Novel, customers have the ability to download and enjoy Android applications from their favorite sites.(1) As a result, customers can personalize their 9-inch Android multimedia tablet and color eReader by adding the applications that are the most interesting and increase daily use of the device.

In addition, this Pandigital Multimedia Novel is an excellent platform for comfortably reading digital books, browsing through periodicals, and enjoying children's books with color photos and illustrations. Customers can use the integrated AT&T wireless network connection as well as Wi-Fi connectivity for quick and wide-reaching access to the Barnes & Noble eBookstore. They can then download their purchases instantly across AT&T's wireless network without a contract.

"The Pandigital Multimedia Novel line became incredibly popular in 2010 thanks to its breadth of features, top-notch eReading experience, and affordability," said John Clough, president, Pandigital. "Our new 9-inch Android™ multimedia tablet and color eReader promises to move this experience ahead dramatically with its large touchscreen for enhanced viewing, versatile Android platform, and connected eBookstore with broad wireless coverage provided by AT&T."

"By introducing wireless capabilities to the Pandigital Multimedia Novel, AT&T is thrilled to connect consumers with easy access to their favorite books and periodicals while on the go," said David Haight, vice president, business development for emerging devices, AT&T Mobility.