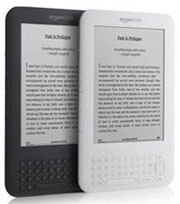 I happened to notice this morning that QVC is now selling the Kindle 3. The bad news is the price is the most ridiculous thing I've seen in a long time.
The 3G Kindle 3 sells from Amazon for $189 with free shipping. QVC is selling the Kindle 3 for $335.16 plus $10.47 for shipping. You've got to be kidding me, right?
Oh, but wait. The QVC version comes with a bunch of accessories. Let's take a look at what you get for that additional $156.63 that's enough to buy an additional Kindle WiFi with a cheap cover.
Included accessories: a two-in-one case/stand, LED clip light, earbud headphones, three protective skins, and four screen protectors. There's a picture of a charger for your car but it is not listed anywhere in the description.
Screen protectors and skins are both very inexpensive, and why you would need 7 of them is anyone's guess. I couldn't fine the exact cover shown over at QVC on Amazon, but similar ones cost about $30. Those must be some mighty expensive earphones and clip on light.
As if that's not bad enough, this is QVC's "Hot Pick" of the day that expires tonight. The price looks like it will be going up to $369 tomorrow, QVC's regular price.
I hate it when companies try to rip-off people that don't know any better.