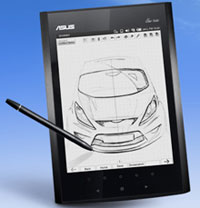 First released in Taiwan back in November, and then Europe earlier this month, the Asus Eee Note EA-800 is now headed to North America with a sub-$200 price.
The Eee Note is combination of a digital notebook and ereader. It has an 8-inch monochrome touchscreen that supports 64 levels of gray with a resolution of 768 x 1024. It features an ultra-sensitive Wacom digitizer for capturing handwritten notes and drawings on the 2540 DPI screen that responds to 256 levels of pressure.
It comes with a rear-mounted 2 megapixel camera, Wi-Fi, voice recorder, headphone jack, and speaker. It has 4GB of internal memory, enough for about 10,000 ebooks or 20,000 notes, and has a microSD card slot.
The Eee Note supports the following formats: PDF, ePub, MP3, JPEG, BMP, GIF, and PNG. It also supports the following formats that automatically save as PDF/ePub while importing with the PC tool: txt, doc, docx, xls, xlsx, ppt, and pptx.
The battery life is rated at 10 hours of continuous use with wireless turned on, 13.5 hours with wireless off.
Asus recently uploaded the first video below to YouTube to give an idea of what to expect from the Eee Note EA-800, but it's rather crummy so I found a much more detailed review of the Eee Note uploaded by Laptopmag (second video).
Asus Eee Note Promo
Asus Eee Note Review