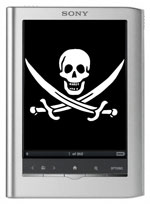 David Cornoy of CNET is an aspiring novelist. Recently, his book Knife Music was added to a torrent of 2500 books.
At first, he was not worried, because he only made about $0.50 an ebook anyway. But then he started thinking…2500 books is a lot of books, more than most would ever need, and at a super low price of $2 a piece, that would be $5000. For the big name authors, that could mean a lot of money out of their pockets, because no one actually spends $5000 to actually get these books.
Also, a collection of that magnitude would not require that much memory space on your computer. This means that the files could easily be reproduced and distributed with ease through piracy. In fact, during his own research, Cornoy discovered that the number one download on the Pirate Bay website was a 600+ book collection (offered by a known tablet provider). At $2 a book, that is over a $1200 loss per download. Two measly dollars is a very low price! It's hard to find paperbacks at that price! So given that this is a very low estimation, the actual loss is much greater.
All of us can remember the diabolical debacle that was Napster. Musicians everywhere lost a criminal amount of money—although music fans everywhere rejoiced in the new age of instant gratification. Cornoy fears that the same attitude will leak into literature consumption. People seem to have an insurmountable obsession with obtaining desires and obtaining them now. We see Netflix, BlockBuster, and Pay-Per-View engage in this battle all of the time (through legal avenues) when a new big hit is released.
Literacy Piracy is the next big threat, and companies invested in the ebook industry will have to meet the challenges that will undoubtedly arise. In addition to Cornoy being worried about the impeding peril, Scott Turow, President of the Authors Guild (and practicing lawyer) quoted:
"It [piracy] has killed large parts of the music industry," he said in an interview. "Musicians make up for the copies of their songs that get pirated by performing live. I don't think there will be as many people showing up to hear me read as to hear Beyonce sing. We need to make sure piracy is dealt with effectively."
Hopefully, this will not prove to be detrimental to the authors of our time (as those from other times will need not worry about pirated book sales) and all issues will be resolved.
On the flip side, you can't help but wonder about the positive affects of ebook piracy. Neil Gaiman recently stated that ebook piracy has actually helped boost sales of his work in this video interview below.