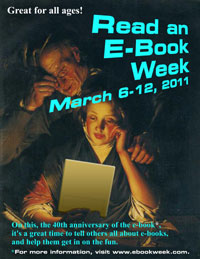 Yesterday Read an E-Book Week kicked off with a number of publishers and authors offering thousands of free and discounted ebooks to help promote ebooks around the world.
Read an E-Book Week was created in 2004 to help bring attention to ebooks and to educate and inform the public about the advantages of digital books. Last year Read an E-Book Week reached e-reading fans from over 136 countries.
This year marks the 40th anniversary of the ebook. In 1971 the first ebook was created by Michael S. Hart, founder of Project Gutenburg, using a Xerox Sigma V mainframe computer to make a digital copy of the Declaration of Independence.
To get started with Read an E-Book Week, check out the partners page for a list of ebook stores, authors, and publishers participating in this year's event.
Aside from building on your ebook library, you can also enter a contest to win a Kobo eReader or Nook. And if you visit Steven Lyle Jordan's website you can enter to win one of two E Ink watches. Details for the contests can be found here.