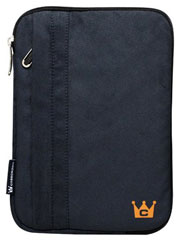 Like most tablets and ereaders, the Notion Ink Adam doesn't come with a cover or case of any kind. In fact, Notion Ink doesn't even sell any cases or covers, at least not yet.
To make matters worse, the Adam is so new that there isn't much of a selection for third party cases at all, but I did happen to come across this CaseCrown Faux Suede Zip Sleeve Case on Amazon. It comes in five colors: black, navy blue, red, fuchsia, and gray. There are various sizes for other devices too.
At the time it was listed at $7.21 plus $4.99 for shipping. I decided to buy the navy blue one and am glad I did. It is a very nice case and fits the Adam perfectly.
As the name would suggest, the outside of the case is faux suede and is soft and pleasant to touch. The inner part is made from different material that isn't soft or linty; it is synthetic and textured so it keeps the screen free from dust and lint. The padding on the front and back is about 1/4″ thick and is fairly dense, adding some shock protection but still you definitely don't want to drop it.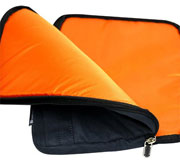 There's a pocket on the front for storing accessories and such. The Adam's AC charger fits with room to spare. The pocket is bigger than it looks. I was able to cram the paperback version of Stephen King's The Stand into the pocket and close the zipper. At 1100+ pages the book is about 2″ x 7″ x 4″. That's pretty much as large as the pocket can handle.
Overall, I would definitely recommend the CaseCrown Zip Case for the Notion Ink Adam, especially at the price I got it for. The list price is $35.99, however. It's a good case but I would never pay anywhere close to that much for it.
I suspect the low introductory price is a marketing tactic. Sell a new product for really cheap to get some good reviews then jack the price up once it becomes popular. Well, it must be a good sales trick because it worked on me. It's natural not to have very high expectations at $7.21 plus shipping so when it shows up and is actually quite nice it surprises you. My advice: get one before they jack up the price.