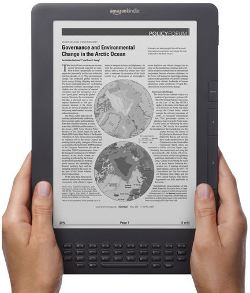 The Gold Box deal of the day at Amazon.com is the Graphite Kindle DX. It is selling for $299. The regular price is $379.
This is the first time that Amazon has run any kind of one-day sale for a Kindle. All the other times they have dropped in price it was permanent. Makes you wonder if they are getting set to introduce a new model or perhaps an Android tablet in the near future.
The Kindle DX is a 9.7″ ebook reader. It doesn't have WiFi like its younger siblings but it does come with free 3G global wireless, a Pearl screen, 4GB of memory, g-sensor, and 1-3 week battery life.
Unfortunately the Kindle DX doesn't have as many features as the Kindle 3 so I don't usually recommend it. The web browser isn't as good, PDF features are lacking, and there's no WiFi. But it does have plenty of good qualities and is one of the only 9.7″ E Ink ereaders available, and the only one with a Pearl screen.
Check my Kindle DX review for more details and a video demo of it in action.