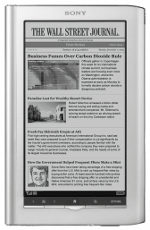 Yesterday Sony added the Daily Edition and Pocket Edition ebook readers to their refurbished products section, the 6″ PRS-650 Touch Edition is missing, however, and once again is out of stock, as it always seems to be.
The Daily Edition is selling for $239 refurbished, $60 less than the regular price (don't pay attention to the $329 listed on Sony's website; it has never sold for that much).
The Sony Daily Edition features a 7″ touchscreen, comes with WiFi and free 3G from AT&T, 2GB of memory, SD and Pro Duo memory card slots, web browser, and the battery life is rated at 10-22 days. Check out my hands-on PRS-950 review for more details about the Daily Edition.
That's a good price for the Sony Daily Edition but I can't say the same for the refurbished Pocket Edition, which sells for $152, just $27 less than the regular price. You are better off getting one from Best Buy for $119.
Both refurbished units are available in silver and include free shipping.