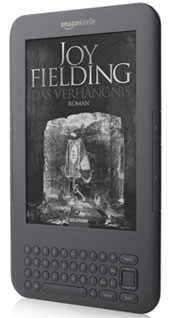 Today the German Amazon website, Amazon.de, opened the doors on their own Kindle Store, complete with product pages for the Kindle, Kindle eBooks, and Kindle Reading Apps.
According to the press release, the German Kindle Store has more than 650,000 titles available, 71 of 100 Spiegel bestsellers, and over 25,000 German-language titles, including thousands of free German public domain classics.
Amazon also updated the Kindle apps for iPad, iPhone, PC, Mac, and Android to add support for German and to add a German dictionary for German-language ebooks for those apps that have on-screen dictionary support.
The Kindle has been available in Germany since the international launch back in 2009, but only from the US Amazon store. Now the Kindle is available directly from Amazon.de, although it still has an English user interface, not German.
More details from the press release:
The German Kindle Store's vast selection includes titles from German-language authors including Arno Geiger, Kerstin Gier and Charlotte Link, plus 71 of 100 Spiegel bestsellers and thousands of German classics downloadable for free only on Kindle. Additionally, the Kindle Store features thousands of independently-published German-language titles through Amazon's Kindle Direct Publishing service. Top German and international newspapers and magazines are also available for single purchase or subscription including Frankfurter Allgemeine Zeitung, Handelsblatt and Die Zeit. New subscriptions are auto-delivered wirelessly to Kindle and start with a free 14-day trial.

Free Kindle reading apps are now available in German language for iPad, iPod touch, iPhone, PC, Mac and Android-based devices. Amazon's Whispersync technology syncs your place across all devices, so you can pick up reading where you left off. Plus, with Kindle Worry-Free Archive, books you purchase from the Kindle Store, and any notes or annotations you create, are automatically backed up online in your Kindle library on Amazon.de where they can be re-downloaded wirelessly for free, anytime.

Kindle is the bestselling product in Amazon's history and offers the latest electronic-ink technology with 50 percent better contrast, a sleek design with a 6-inch screen, light weight of just 8.5 ounces, readable in bright sunlight with no glare, and up to one-month battery life. Kindle has an English keyboard and English-language menus that allow customers to find, discover and read a large selection of German and English books. Kindle is available for just 139EUR and Kindle 3G is only 189EUR . Both Kindle devices are now available with free two-day shipping from Amazon.de.