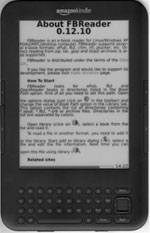 For those of you that desperately want to read ePub ebooks on your Kindle, there is a way to install a version of FBReader—dubbed FBKindle—on the Kindle if you are willing to do some technical work.
FBReader is a popular e-reading program with plenty of options for customizing the layout for ebooks. It only works for DRM-free ebooks, however, but the Kindle's regular functionality is still preserved so you can still get ebooks from Amazon too.
Before installing FBKindle, you have to jailbreak the Kindle first, then install a program called launchpad. The process isn't for the technically challenged.
After looking over everything myself, I was not willing to take the time to install FBKindle even though FBReader is one of my favorite ereading programs. It's a lot easier to just convert EPUB to MOBI using Calibre, but if you want to install FBKindle, the three steps are listed below with links to MobileRead for the directions.
It looks like FBKindle will work with the Kindle 3, Kindle DX, and Kindle 2—not sure about the Kindle 1.
3 Steps to Install FBKindle