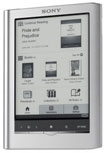 With the announcement of two new touchscreen ebook readers this week, the New Nook and Kobo Touch, Borders is now selling the touchscreen-equipped Sony PRS-350 online for $109, a full $70 off the regular price.
The Sony Pocket has hit $119 a few different times, but it has never been priced this low. What's strange is that Borders had stopped selling it and other Sony Readers several weeks ago; it appears as though they brought it back just for this deal.
The Sony Pocket is a 5″ ebook reader with a E Ink Pearl display. It has a solid set of features: bookmarks, highlights, notes (freehand and typed), 12 dictionaries, contrast adjustment, 2GB internal memory, collections, active hyperlinks, TOC support, and more (check my review for the rest).
It even has decent PDF support given its diminutive size with zooming and panning capabilities, and zoom pre-sets. It does not have any memory card slots, however, nor WiFi, and it does not support audio.
Given the price and feature-sets of the other touchscreen ebook readers announced this week, the PRS-350 at $109 is another solid ereader to consider.