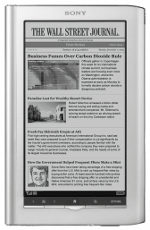 I received a very interesting email last week and had to wait until now to post about it. Sony is selling refurbished PRS-950's from Sony.com for just $129 with coupon code OUTLETREADER110. The coupon code is valid from 6/22 – 6/25.
The Daily Edition normally sells for $299 new and $239 refurbished, so this is one of the best deals of the year. I'm even tempted to get one, but that's just crazy talk…right? What would I do with yet another ereader?
The PRS-950 is Sony's premium model. It has a 7″ E Ink Pearl screen, free 3G and WiFi, 2GB of memory, two memory card slots, an audio player, on-screen notes and highlights, 12 dictionaries, and a basic web browser. Here's my review of the PRS-950 for more details about it.
Reading between the lines, it certainly looks like Sony is clearing stock in anticipation of releasing a new ereader or two. The PRS-650 and PRS-950 have both been listed as out of stock on Sony.com for some time now. And both have been slowly disappearing from retailers' shelves and websites, while the PRS-350 continues to be readily available. Also, the PRS-350 continues to remain on sale at Borders for $99 new.
If I were to guess, I'd say that Sony is going to release a 6″ ebook reader with WiFi in the near future, kind of a combination between the PRS-650 and PRS-950.