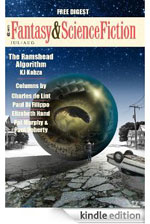 To the delight of speculative fiction fans, Amazon announced yesterday a new Kindle exclusive offer for a free subscription to the Fantasy & Science Fiction Magazine.
The offer isn't for the Fantasy & Science Fiction Magazine in its entirety, instead the free subscription is a shortened version that offers one short story per issue and all the nonfiction articles, which includes all the editor's recommendations, film and book reviews, cartoons, etc, along with the descriptions of the full issue's remaining stories.
The Fantasy & Science Fiction Magazine is a bi-monthly magazine so there are six issues per year. The full version costs $12 per year or $2.99 per issue and is called the "Extended Edition". It contains all the stories and articles of the printed magazine.
Kindle magazine subscriptions don't work on all platforms. Currently they are offered on all Kindle devices, of course, as well as the Kindle apps for iPad, iPhone, and Android.
In other Kindle-related news, Amazon is looking to unload some refurbished Kindle 3's for cheap, probably because they are going to reveal two new Kindles later this month. They have the Kindle WiFi for $99 and the Kindle 3G for $129. Those are both the original models without screensaver ads and special offers, which would cost $15 more for the WiFi version new and $10 more for the 3G version new.