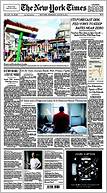 I noticed something odd today while working on the review for the Pandigital Nova. I was able to open newspapers and magazines from Barnes and Noble with the Aldiko Android app.
After further testing with other Android apps and on a computer with EPUB readers, all my newspapers and magazines from Barnes and Noble are indeed DRM-free. But there's a catch.
They are all free trials that I cancelled before buying the actual subscription. Does that make a difference? It might. If you download a free sample of an ebook from B&N it too will be DRM-free, but the full version will be crippled with DRM once you download it.
So is it just because the newspapers and magazines issues are from the 14 day free trial? Or do all of B&N's newspapers and magazines come DRM-free?
If you have a subscription to a B&N periodical, let us know if it will open with a different program or not. It seems strange that trial issues would be different from subscription issues when they are exactly the same otherwise. Do they just automatically switch to DRM'd versions after the 14 days are up? If not, this could be interesting.