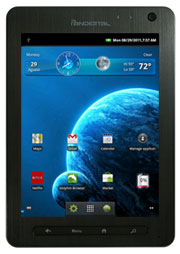 If you've seen my Pandigital Nova rooting guide, then you'll know that the one problem I had with rooting my Pandigital Nova was the fact that the home button stopped working.
Luckily there's a quick fix for that. Thanks to Dennis for leaving a comment explaining how to make it work. I tried it out yesterday and now the home button works great, and the search button works like it is supposed to now as well.
So here's how to fix the Pandigital Nova's home button.
1. Download the Pandigital Nova's original firmware here from Pandigital's website (I downloaded the one dated 08092011).
2. Place the firmware zip file as is on the Nova's microSD card, and make sure to delete any old firmware and update files while you are at it.
3. With the Pandigital Nova powered off, you now need to boot it in recovery mode like you did earlier to root it. To do this, just hold down the power button and volume up button at the same time. Let go of the power button when the screen turns on, but continue to hold the volume up button until the Android update icon appears.
4. At this point, the update will install automatically and then the Nova will restart. Now the home button should work without a problem. All my apps and the root still existed so I didn't have to do anything further. The Nova them prompted to install the newer firmware update. I chose to install it and everything has still worked fine since. It's the same firmware as before doing all this, 08102011.