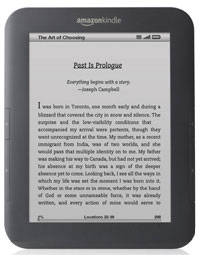 So there's an interesting bit of news going around French ebook reader circles that suggests the Kindle 4 will launch on October 8th in France, which would assumingly mean everywhere else the Kindle is sold as well.
This stems from a comment Arnaud Nourry, the CEO of Hachette Livre, made during an interview with Soft Power, a France Culture radio program. The interview can be found here (it's in French).
According to sources, the Kindle 4 will launch on October 8th in France, and will include ebooks from French publishing houses, which lends credence to insider info coming from the head of Hachette.
But I'm not so sure I'm buying this rumor for one simple reason: October the 8th falls on a Saturday. Who announces a product launch on the weekend? That doesn't seem very likely. Perhaps it's not really the Kindle 4 that is being launched in France, maybe that's just the date they plan on launching the localized Kindle Store in France, making the Kindle available from Amazon.fr like they just recently did in Germany with the Amazon.de website. That seems a lot more likely.
If the Kindle 4 really is going to launch on October 8th, it would most certainly be announced before then. Releasing a device on the weekend makes a lot more sense than announcing a new device on the weekend. Amazon usually announces the launch of the Kindle a couple of weeks before they start shipping them.
(Thanks for the tip, PML)