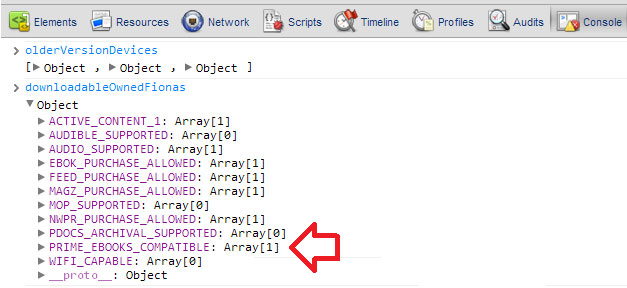 A crafty code sleuth over at MobileRead uncovered one of Amazon's secrets while investigating source code trying find a picture of the new Kindle Tablet that everyone is expecting Amazon to announce at a press conference they scheduled on September 28th.
I did some investigating of my own and it does indeed appear as if Amazon is getting set to introduce something called Prime eBooks, assumingly an ebook rental type of service, like NetFlix for ebooks, as part of their Amazon Prime subscription package. Plus this corroborates a recent rumor that has been going around.
View the source code on the Manage Your Kindle page and you'll find references to prime ebooks. The most notable mention is where it says "PRIME_EBOOKS_COMPATIBLE", like the picture above shows.
There are other examples in the code's comments too: "this is a currently checked out prime or library ebook" and "check whether the item is an active loan (currently prime or library)".
There's this too: prime_active_delete = "Are you sure you want to permanently delete this loan? Doing so will return the loan and remove it from your account."
That's not referring to library ebooks because there is a second one for those: library_active_delete = "Are you sure you want to permanently delete this library loan? Doing so will permanently remove it from your account and return it to the library."
The code doesn't lie. Prime ebooks are on the way. There's no way the coders at Amazon would add something that isn't yet certain to happen. They probably just added it when they did all the updates to add Kindle library lending. I wouldn't be surprised if this gets announced on Wednesday too.
By the way, the poster at MobileRead mentions uncovering what could be info about the Kindle Tablet, but that is a dead end. The term "kindle-video-slate" means nothing about the Kindle tablet. It is a common CSS style Amazon uses for Kindle videos on their site. Go to any Kindle page and view the source for the video and you'll see what I mean.