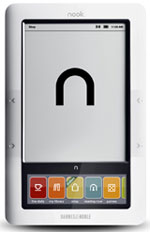 Yes, Barnes and Noble still sell the original Nook and they just sliced $30 off of its price both on B&N.com
and on B&N's eBay store, making it just $89. It originally sold for $149 before the Nook Touch came along so that's a pretty hefty discount.
Even though it is the older model, it is a brand new Nook, not one that has been refurbished. It is the Wi-Fi only version; B&N no longer have the 3G model available.
The Nook 1st Edition is one of the more unique ereaders with its 3.5-inch color LCD screen below the 6-inch E Ink screen. It comes with 2GB of internal memory and supports microSD cards up to 16GB. It supports audio playback and the following formats: Adobe DRM, EPUB, PDF, PDB, JPG, GIF, PNG, BMP, and MP3. It is the only Nook remaining that supports PDB format.
The Nook 1st Edition runs on a modified version of Android 1.5 that isn't nearly as hackable as the Nook Touch. Since the color screen requires more power, the battery life is one of its weaknesses compared to other devices. A battery charge can last up to 10 days, but it's usually more like 5-7 days.
Still, a brand new E Ink ereader for $89 is a pretty darn good deal.