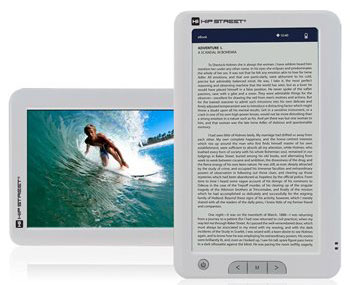 Here's another cheap ereader hybrid that no one has ever heard of, and is currently on sale for $59 plus shipping ($68.08 total) at Buy.com, the Hip Street 7″ High Definition Multimedia E-Reader.
There aren't any reviews so it's hard to tell if it's any good or not, but it has some inviting features for the price, including a touchscreen, support for Kobo ebooks, and an HD video player.
The specs aren't very detailed, but here's what we've got:
7″ color touchscreen
4GB built-in memory
Micro SD card slot
Supports DRM, Kobo eBooks
Play HD videos
Music player
Built-in speakers
Built-in re-chargeable lithium battery
Weight: 320 grams
If you've had you hands on the this particular Hip Street ereader (there's at least one other model too), let us know what you think of it.