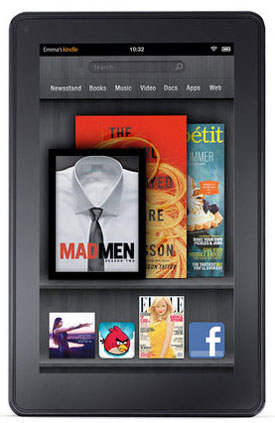 Today Amazon pulled the veil off the worst kept secret of the year, the Kindle Fire tablet.
The Kindle Fire has a 7″ multi-touch IPS screen and runs a customized version of Android 2.3 Gingerbread. The big surprise is that it will cost just a shade under 2 Benjamins. It starts shipping November 15th.
To reach that low price Amazon decided to go without a camera, microphone, and memory card slot (it has free cloud storage instead). It comes with WiFi but no 3G. Also included is a free 30-day trial for Amazon Prime. Membership costs $79 a year for Amazon Prime and comes with perks like free two-day shipping, access to Amazon's video-streaming service, and the soon to launch Prime eBooks rental service.
Kindle Fire Specs and Features
7″ IPS screen
Multi-touch
Gorilla Glass
1024 x 600 pixel resolution at 169 ppi, 16 million colors
8GB internal memory
Dual core TI OMAP4 processor
Wi-Fi
USB 2.0 (mini port)
Whispersync
Amazon Silk – fast web browser
Free Cloud storage
Battery life 8 hours, 7.5 video playback.
Size: 7.5″ x 4.7″ x 0.45″
Weight: 14.6 ounces
Price: $199
Release date: November 15th
Here's the Kindle Fire commercial…