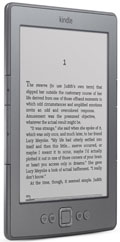 My Kindle 4 arrived yesterday morning so I've been spending a lot of time giving it a test drive. I even put together a general video review showing how everything works (below).
So far I've been pleasantly surprised by the Kindle 4. I've noticed a couple of negatives with it too, but then again it's pretty hard to complain about a $79 ereader that has more going for it than most twice as expensive.
First off, the design is a big improvement. Despite the discounted price, it doesn't look or feel cheap. The Kindle 3 is flat out ugly by comparison. The Kindle 4 is more elegant. It has a better shape, better lines. It's more comfortable to hold. And the text looks superb. Even though the screen tech is the same, the text is slightly darker and more crisp than the Kindle 3.
The web browser has a couple of new features. The screen can be switched to landscape mode and there are five different zoom levels. Unfortunately the Kindle's web browser still does not open links that open new windows.
The main negative, and you have to know this going in, is that the Kindle 4 doesn't support audio. So no audiobooks, MP3s, or text-to-speech. I also noticed a problem with Active Content—games and apps. A few word games downloaded and worked fine, but several others games and apps would not download, giving an error, "The item is not available for this device type". That could be trouble.
Otherwise, so far so good. The interface and menu system remains mostly the same as the Kindle 3. The main difference is the on-screen keyboard for entering text—it's cumbersome but gets the job done. As long as you don't need to take notes very often.
The Kindle 4 is going to be extremely popular simply because of its low price. But it does have one major competitor: its sibling, the $99 touchscreen Kindle. For $20 more you get the touchscreen upgrade and the addition of audio support and double the memory and battery life. That's going to be pretty hard to pass up.
Anyway, that's it for now. I'll post some pictures, the full review, and some comparison reviews next week. Subscribe to keep in the loop.
Kindle 4 Video Review