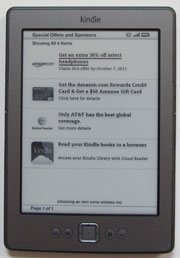 So it turns out that getting rid of the advertisements and special offers on the Kindle 4 is as easy as giving Amazon $30.
That's right. If you happened to purchase a Kindle 4 with Special Offers for $79, you can pay the difference for the non-ad version, which is $109, after the fact if you decide you don't like the advertisements and coupon deals.
For some reason this currently only works with the Kindle 4, not the Kindle Keyboard. And you can't go the reverse route to get the ads and coupon deals on a Kindle 4 you purchased without ads.
To turn your ad-supported Kindle 4 into a non-ad Kindle, all you have to do is go to the Manage Your Devices page at Amazon, select edit next to the Kindle 4, then click the unsubscribe button when you see this:
This Kindle is currently subscribed to Special Offers and was purchased at a subsidized price ($30 discount).

Amazon is able to offer the Kindle at a subsidized price by delivering Special Offers & Sponsored Screensavers.

By unsubscribing you will be charged $30 (plus applicable tax).
Since Amazon is advertising the price points of their new ereaders as the ad-supported models, it's good to see that they've made it possible to get rid of the ads. A lot of people are probably going to order the lower-priced Kindle without knowing about the ads, so unless they want a bunch of annoyed customers they needed to do something.
Personally, I don't mind the ads because of the coupon deals that go along with them. I already saved $5 off a purchase from Amazon. I don't find the ads on the screensavers at all annoying—they are better than pictures of dead authors—but the one on the homescreen I could do without. For now I'll stick with the ads, but it's good to know that I can get rid of them later on down the road if I want to.