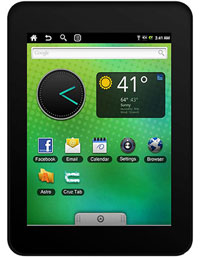 If you are looking to nab a budget tablet or color ereader this holiday season on the cheap, Walmart has the Cruz Tablet T301 online for $99.98, and it comes with an AC adapter, sleeve, stand, and 4GB SD card.
I reviewed the Cruz Tablet T301 last January; it was running Android 2.0 back then. It's not a great tablet by any stretch but it's hard to argue with $99 for a color ereader/tablet hybrid with a capacitive touchscreen and Android 2.2.
The Cruz T301 comes with the Kindle Android app pre-installed so it ties in with Amazon for ebooks and periodicals. It can install other ereading apps as well. It does not have the Android Market, but is open to install third-party Android apps from other appstores including Amazon.
The T301 has a 7-inch screen with a resolution of 800 x 600 pixels. It comes with 4GB of storage and 256MB RAM and is powered by a MIPS 528MHz dual core processor. It has an SD card slot, Wi-Fi, mini USB port, stereo speakers, and a headphone jack.
Make sure to check my Cruz T301 review before pulling the trigger because it does have some issues. Some apps work fine and others do not.
For those paying close attention, the listing at Walmart says T103 in the headline, a different Cruz Tablet, but the product description, the reviews, and the url all indicate it is indeed the T301 model.