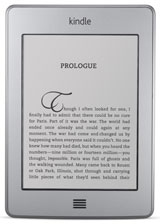 The holiday shopping season is already upon us. Below you find all the Kindle related Black Friday and Cyber Monday deals gathered into one place, along with other discounts.
Actually these are all Black Friday Kindle deals and refurbished items at present because no Cyber Monday deals have surfaced yet. That's not surprising because all Kindle devices are sold exclusively online from Amazon—retailers can only sell them in stores.
Let me know if you find any other Kindle Black Friday or Cyber Monday or any other deals and I'll add them to the list. Hit the link at the bottom of the post for more details about these offers.
Kindle DX
Amazon – $259 Kindle DX, normally sells for $379
Kindle Touch
Staples – $149 Kindle Touch 3G with Special Offers, $20 gift card
Staples – $99 Kindle Touch 3G with Special Offers, $20 gift card
Kindle 4
Radioshack – $79 Kindle 4 with Special Offers, $10 gift card
Staples – $79 Kindle 4 with Special Offers, $15 gift card
Kindle 3 Keyboard
Target – $85 Kindle Keyboard 3G with Special Offers
Meijer – $89 Kindle Keyboard Wi-Fi with Special Offers, $25 gift card
Amazon – $99 Kindle Keyboard Wi-Fi refurbished
Amazon – $129 Kindle Keyboard 3G with Special Offers refurbished
Kindle Covers and Accessories
Office Depot – $10 M-Edge Kindle Covers with purchase of any Kindle
Office Depot – Buy one get one free on all M-Edge Kindle covers and accessories
Radioshack – 50% off Kindle accessory bundle with Kindle purchase