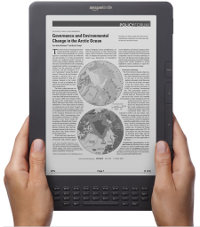 If you have been holding off on getting the Kindle DX, now is the time to pull the trigger because it is at its lowest price ever, by far.
Amazon almost never discounts their ereaders, but today until November 28th or until they run out, the Kindle DX is on sale for $259. That's $120 off the usual wallet-shredding price of $379.
This the latest generation Kindle DX with the E Ink Pearl screen. It is a large 9.7″ ereader and more suited for PDFs than the smaller Kindles. It has 4GB of memory, a battery life of 1-3 weeks, and comes with free 3G wireless in over 100 countries around the world.
This deep discount makes you wonder if Amazon is looking to clear out and stop selling the Kindle DX entirely. It was released last year before the Kindle 3, and hasn't gotten any updates since, despite the fact the Kindle 3 and now the Kindle 4 and Kindle Touch offer more advanced features than it does.
I've been very critical of the Kindle DX because of Amazon's lack of improvements, but at $259 it's a lot harder to argue. Even still, I don't see many people choosing it over the Kindle Fire for $60 less.
In short, the Kindle DX is a suitable choice if you need a larger ereader and don't need a lot of features. It is good for viewing PDF files, but doesn't have notes or highlights or other features you would expect. Check my Kindle DX review and Kindle DX PDF review for more information about it.