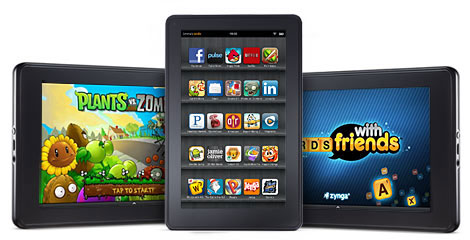 Amazon never releases Kindle sales figures but it doesn't take a genius to figure out that they are selling way more Kindle Fires than E Ink Kindles, probably more than all the E Ink Kindles combined, in fact.
Today Amazon released a statement boasting about selling 4 times more Kindles this year for Black Friday than last year, and last year was a "great year". There is little doubt the Kindle Fire is largely responsible for the increase.
Amazon says in the press release that the Kindle Fire has been the #1 bestselling product on Amazon.com ever since it was introduced back on September 28th. The #2 and #3 items on Amazon's bestseller list in electronics are the $99 Kindle Touch and $79 Kindle 4. And judging from the difference in the number of reviews, the gulf between the Kindle Fire and E Ink Kindles is vast.
The number of reviews doesn't necessarily reflect the number of sales but is good at giving a general idea.
The Kindle Fire and Kindle Touch ended up being released at the exact same time 2 weeks ago. As of this writing, the Kindle Fire has 3,122 reviews. The Kindle Touch on the other hand only has 459 reviews, and that spans all four variations of the Kindle Touch, not just the $99 version.
Then take into consideration the Kindle 4. It has been out since the end of September, and it only has 1,495 reviews. In two weeks the Kindle Fire has amassed more than double the reviews the Kindle 4 has received in 2 months!
We'll probably never know just how many Kindle Fires Amazon is selling. There are certainly selling a lot more than regular E Ink Kindles. I guess that shouldn't be surprising. But I wonder if the Kindle Fire is negatively affecting E Ink Kindle sales.
The Kindle 3 has been out for about 15 months and it has 34,296 reviews. That is an average of roughly 2,300 reviews per month. The Kindle 4 and Kindle Touch aren't anywhere close to being on pace with those numbers. The Kindle Fire, however, is on pace to triple that number in the first month. Plus there's the fact the Kindle Fire is sold in the US only, and the Kindle 3 and Kindle 4 are sold globally, making the Kindle Fire's numbers even more impressive.
Some analysts predict that Amazon will sell 5 million Kindle Fire tablets in the 4th quarter of 2011 and 12 million in 2012. Not only that but Amazon is expected to launch at least one more Kindle tablet in 2012, maybe two. Rumor suggests a larger more capable 8.9-inch or 10-inch model is in the works. And why not? So far the Kindle Fire is looking like a huge success for Amazon.