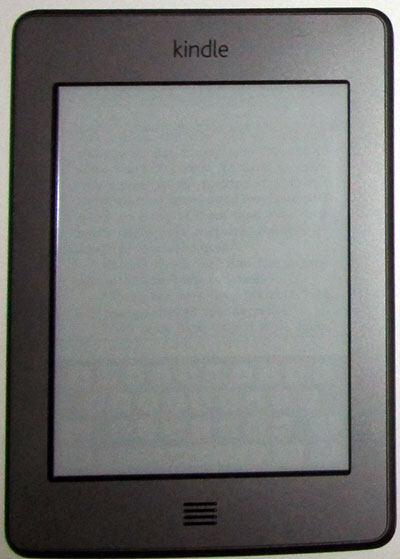 With the Nook Tablet and Kindle Fire on hand, I haven't had a lot of time to use the Kindle Touch since receiving it a couple of weeks ago. I really need to get the review finished so I've been using it more lately and I've come to the conclusion that my Kindle Touch has a ghost.
I mentioned the ghost in the Kindle Touch video review and first impressions post, and it has not gone away. If it was a poltergeist or some tormented spirit ghost I'd know what to do, but I'm not sure what to do to get rid of a Kindle ghost.
I'm wondering if all Kindle Touches have similar issues or if it is this particular unit. My Kindle 3 and Kindle 4 don't have any ghost problems whatsoever, aside from using the web browser.
The reviews at Amazon for the Kindle Touch are generally favorable. Right now it has 3.7 stars with 535 reviews. I ran a search and ghosting turned up in 21 of the reviews, just 4%, and a good share of those are saying it has no ghosting or minimal ghosting.
Granted, people new to ebook readers wouldn't know to use that term, and a good share of you are reading this right now thinking I'm some kind of lunatic for saying my Kindle Touch has a ghost. Well, you're right. But that's not the point.
Ghosting is a term that refers to an afterimage that remains on the screen after the page has turned or refreshed. The ghost is a grayed-out version of the previous page or image.
And I've discovered a way to get the ghost to appear at will on my Kindle Touch: just hold the power button for seven seconds to turn the device off and it is always there, staring me in the face. It is impossible to turn off my Kindle Touch and not have a ghost of the previous page remain on the screen, as the picture at the top of this post shows (click it for big).
Does your Kindle Touch do this?
An afterimage isn't a problem on the off-screen, obviously, but it's not just that. The ghost shows up often. The web browser has mad ghosting. The keyboard and ads often linger after the fact too, and sometimes the menus.
On a positive note, the ghost can be kept at bay for the most part while reading by enabling full page refresh on every page in the settings menu. It will still sneak up on you, though. When you least suspect it…